SDW-32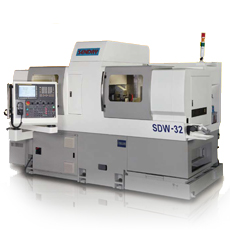 SDW-32 CNC lathe (guiding-bush and non-guiding bush type) is used new and high performance Fanuc controller systems. The controller can control dual systems (7 axes) including 5 feed axes (Spindle Z1, Gang tool X1 and Y1, Sub Spindle X2 and Z2). The spindle and sub spindle have indexing function and C-axis control, which can perform contour milling. Material remains can be efficiently reduced with use of guiding-bushless holder,

Motor built-in spindle can perform high speed cutting and avoid vibration and noise so precise cutting can be achieved. With high resolution sensor, machine can perform precise C- axis control, contour milling and eccentric drilling and tapping

Parts conveyor can avoid finished work-piece from collision and coolant collecting plate can prevent coolant leakage

Back 4 rotary tools are changable. With use of fixed tools, machine can perform center drilling, tapping, boring, and internal cutting. Machine can perform end-face eccentric drilling, tapping or C-axis control contour milling with the use of rotary tools.

First three positions of cross rotary toolings,used for drilling and milling, are fixed. The buttom 2 positions are changable for plug-in special tools . Cross rotary toolings can perform cross drilling, tapping and cylindrical interpolation milling. Special tools such as front eccentric rotary unit can perform eccentric drilling, tapping and polar coordinate interpolation milling.

Control systems use new and high efficiency Fanuc controller and other system such as Syntec, Mitsubishi or Simens are available . Machine can perform dual systems control and machining independently as well as synchronous and simultaneous turning for long work-piece.
Workingcapacity
Spindle  
Max. turning diameter   
∮32 mm
Max. drilling diameter  
∮13 mm
Max. tapping diameter  
M12 X P1.75
Cross live tooling max. drilling diameter 
∮10 mm
Cross live tooling max. tapping diameter 
M8 X P1.25
Spindle height   
1070 mm
Sub Spindle 
Max. turning diameter   
∮32 mm
Max. drilling diameter  
∮13 mm
Max. tapping diameter  
M12 X P1.75
Back live tooling max. drilling diameter 
∮10 mm
Back live tooling max. tapping diameter 
M8 X P1.25
Motors    
Spindle motor (Built-in )   
5.5/7.5 Kw
Spindle RPM    
70000  PM
Sub spindle motor   
2.2/3.7 Kw
Sub spindle RPM   
7000 RPM
axis servo motor   
1 Kw
axis rapid feed rate  
24 m/min
Cross side and back live tooling servo motor 
1 Kw
Cross and back live tooling RPM  
50000 RPM
Tooling System  
O.D tools size    
□ 16mm
Number of O.D tools    
6
I.D tools size   
C32-ER20 , C22-ER16
Number of I.D tools   
ER20/2pcs , ER16/2pcs
Cross live tooling    
ER16
Number of cross live tooling  
5
Back live tooling   
ER16
Number of back live tooling  
4
General   
Controller    
Fanuc / Syntec
Machine power supply   
AC/ 3∮220 V
Oil tank capacity   
190 L
Machine dimension (LxWxH)   
3035 x 1844 x 2072
Machine weight    
3600 Kg
Coolant pump motor   
1 HP
Hydraulic motor   
1 HP
Broken cut-off tool detector
Parts conveyor
Spindle and sub spindle collects X1
Tool box
Front drilling shaft
Back drilling shaft
Cross rotary tool
Back rotary tool
Guiding-bushless holder
Auto bar feeder
Chip conveyor
High pressure pump
Auto voltage stabilizer
Special rotary tooling